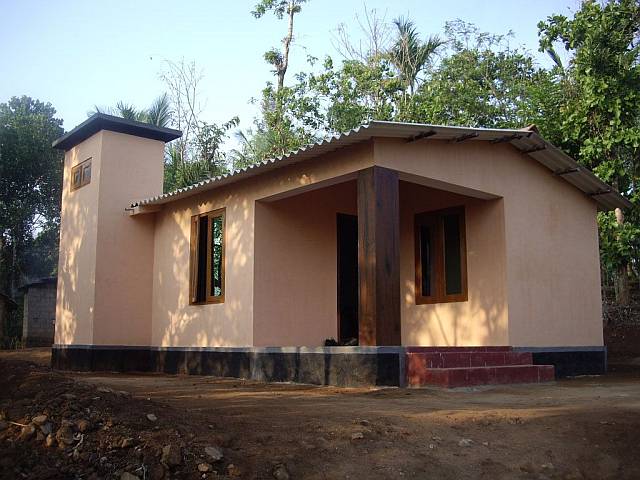 Mannan Tribe House Building Project
Western Ghat Mountains Kerala, South India
Volunteers who initiated and funded the first house project.
Thomas Friebel - Civil Engineer - Germany,
Devin Kalman - Banker -New York
Miss Lena Tempich - Germany
Special Thanks to Miss Gillian Pepper
& Mathew Branch
Volunteer needed to help complete new house
Background
Yearoutindia's house building project aim is to build small houses with basic facilities for selected needy mannan tribal families. This was initiated by calling a meeting of the Mannan King, village elders and others who helped make a priority list of familes in the settlement that needed the help urgently. We have helped built and complete 5 houses to date. There is a long list of families who have requested our help and we have plans to build 2-3 more hoses this year. Many live is run down house and even the simplest housing will be a vast improvement upon the existing accommodation.
About the Project
Two dedicated volunteers (Thomas - Germany and Devin - New York) took part in the first house building project for 8-12 weeks till completion. Along with Yearoutindia funds, their fees, donation and fundraising, the house building project was started. The village settlement and almost all tribals were very enthusiastic and many joined hands with the volunteers in completing the house. The house was completed successfully and is by far the best house in the whole of the settlement.
New Houses - Volunteers needed to jon the house building team
Many of the existing houses are either put together quite crudly or often made from coconut leaf thatching, forest tree trunks and plastic sheets, which offers little protection from the elements. There are no facilities in place for cooking, comfort or hygiene. As with the houses Yearoutindia have built, we aim to construct permanent, stable and safe structure with permanent roof and with basic living facilities, such as a indoor kitchen, doors and windows. The new houses take about 8 weeks to build from the first stone being layed for the foundation to the completed house bieng handed over to the family. Local masons, carpenters, labour and materials sources locally are used throughout and it take a team of 3 - 5 volunteers to manage and finish the work.
What the volunteers will be doing ?
As a volunteer on this initiative you will be staying on site and will build a close working relationship with the tribal community including the families for whom the houses are being built. You can help at all levels from managing the projects, labour, building work and finances. You will also work closely with other volunteers and Yearoutindia staff, giving you the chance to gain new skills, extensive knowledge of working in a new environment, new cultures and perhaps even languages. In addition you will enjoy the unique experience of working in the beautiful area surrounding the beautiful Western Ghat Mountain Ranges.
The development work is on going and we need a min of 2-3 volunteers as soon as possible to help with the ongoing projects and managing building work on-sites. There are local masons and workers who have helped build the first house with lot of experience building houses and they will help with all the work and planning. Volunteers can help at all levels and volunteers who have no prior knowledge or experience of building work can also help at all levels. Our staff and coordinators will help you manage the building project. This is very exciting and challenging placement and volunteers can also come in work / college / friends groups to help at this project site. Volunteers are encouraged to fundraise for this project.
Adventurous volunteers may stay in tents on site, but YOI also has a house nearby which volunteers can use. YOI staff will be present on site and will cook meals for volunteers. Special dietary requirements can be accommodated. After work activities will be in the form of treks, camp fires, BBQ's, games, bamboo rafting etc etc.
This project will greatly benefit the tribal community and also has much to offer the volunteers :
A unique opportunity to work amongst tribal people and to learn about their culture and way of life.
Take part in the very unusual and colourful Annual tribal festival in March.
The satisfaction of creating permanent homes for deserving tribal families.
The joy of working in an area of outstanding natural beauty in the Western Ghat Mountain ranges.
A chance to build life-long friendships with people from all walks of life.
A chance to improve your DIY skills!
* It's a challenging project that require volunteers to be resourceful, committed, self motivated and will definitely involve long hours of work with plenty of excitement and fun. You will be involved in planning, organising and building activities with the help of a team of volunteers, local laborers and members of the community. Please note that the project area is remote and basic facilities will be provided by Yearoutindia. Amenities like Internet, ATM's, Fax etc are only available at the nearest town which is 30 minutes drive away.
Program Start Dates and Costs:
Please contact your program coordiantor for more details of this project and next available project start dates. Project cost are dependent on actual project and other community development initiatives. A portion of the program cost goes directly towards the materials, building costs and labour. The remaining covers program related costs: all food, accommodation, project-related transport, staff etc.Volunteers will also assist the YOI staff in managing the funds and paying daily wages and materials needed for the building work. Project reports and financial accounts will need to be kept and submited when required.
The house building project is an ongoing project. The current house building project is nearing completion and new projects need volunteers. Volunteers and groups are encouraged take on the help complete these projects. We invite students groups, societies and corporate groups to take on these projects. Please contact a coordinator for further details on "info@yearoutindia.com"
Old House

Incomplete House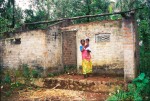 Lakshmi & incomplete house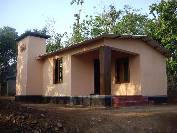 Completed house built by Yearoutindia Volunteers
Typical houses in the village