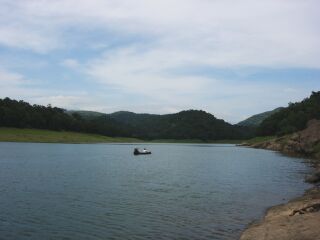 Tribal Sanitation and Drinking Water Project
Western Ghat Mountains Kerala, South India
Volunteers needed to continue ongoing projects in 2013 Join the team at short notice.
Background
The tribal sanitation project is an offshoot of the YOI Tribal House building project. Working in many tribal communities across rural south India, the greatest and most immediate need is very obvious. This is the need for permanent and environmentally friendly sanitation facilities. After initial consultation and assessment of rural conditions, Yearoutindia volunteers from France, UK, Germany and India we able to design a permanent toilet structure which best suited the local needs, environmental conditions and terrain. Two permanent toilets were then built to test the design and these were then modified to suit local terrain, ground water depths and soil conditions to create an efficient toilet design for the rural areas in the western ghat mountains of south India.
Yearoutindia's sanitation project at this site aims is to build permanent toilets with running water facilities throughout the tribal settlements on a need to need basis. There is an estimated need for 150 toilets in the Mannan tribal settlements alone. Yearoutindia has built about 70 toilets to date including toilets for the tribal nursery and local clinic. The Panchayath officials and the locals have pledged support towards this project. These toilets will be a vast improvement upon the existing sanitation facilities, which in most cases are outdoor sheds and open ground. We estimate that open defecation within the settlements we work in have considerably reduced due the above projects and sanitation awareness campaigns. Volunteers are needed throughout the year for this project and can join at short notice.
About the Sanitation Project
This project will require new permanent toilets to be built from scratch with suitable water supply and waste disposal systems.
The toilets will be external structures as the Mannan tribal customs don't allow for toilets attached to houses. The toilets should be permanent with enough direct sunlight as few houses have electricity; and adequate water supply and waste disposal system. Septic tanks will be built and there will be the option of over head water tanks for harvesting rain water during the monsoon seasons. There will also be enough space for washing and the structure will have sufficient ventilation and doors. Wherever possible, toilets will be built between houses to enable more than one family to share the facility. All building materials and labor will be sourced locally therefore generating business which supports the local economy.
Toilets and Bath facilities
The settlement has very few toilets and existing ones are temporary structures built from thatched coconut leaves and are erected away from the houses. They have no waste disposal system and usually the holes are dug and covered when full. They are extremely unhygienic and without proper waste disposal, leads to spread of diseases and contamination of ground water supplies.
The proposed new toilets will be built using cement bricks, cement or corrugated iron sheet roofs and on good granite foundation. There will be enough space for toilets and shower/wash with ample ventilation, doors and running water. Floors will be cement/red oxide mix which provides water proofing and are easy to maintain and clean.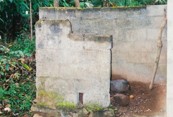 Drinking Water Projects
Yearoutindia volunteers can also help build drinking water facilities for the tribe. This includes help with building water tanks, drinking water wells, laying pipelines and building drinking water storage units for families. During the monsoon season, rain water harvesting can provide clean drinking water. Water purification devices can also be installed to help prevent the spread of water borne diseases and provide clean and hygenic drinking water for the children and families. Volunteers are needed throughout the year to plan, design and implement these initiatives. These are really worthwile projects and really make a direct positive difference to the lives of the people we are trying to help.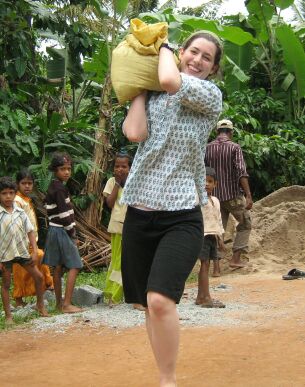 What the volunteers will be doing ?
As a volunteer on this initiative you will be staying on site and will build a close working relationship with the tribal community including the families for whom the house and toilets are being built. You will also work closely with other volunteers and YOI staff, giving you the chance to gain extensive knowledge of new cultures and perhaps even languages. In addition you will enjoy the unique experience of working in the beautiful area surrounding the beautiful Western Ghat Mountain Ranges.
The work is ongoing and volunteers can start throughout the year depending on volunteer positions available. We take only 2-3 volunteers per project to ensure personal commitment to the project and the community you work for. For this reason our placement positions get booked up early.
Volunteers can stay with tribal families where ever possible or also stay at the house we built earlier during the project. YOI staff will be present on site at all times to help with the project. Special dietary requirements can be accommodated. After work activities will be in the form of treks, camp fires, BBQ's, games, bamboo rafting etc etc.

This project will greatly benefit the tribal community and also has much to offer the volunteers :
A unique opportunity to work amongst tribal people and to learn about their culture and way of life.
Take part in the very unusual and colourful Annual tribal festival in March.
The satisfaction of improving living conditions and helping deserving communities.
The joy of working in an area of outstanding natural beauty in the Western Ghat Mountain ranges.
A chance to build life-long friendships with people from all walks of life.
A chance to improve your DIY skills!
* It's a challenging project that require volunteers to be resourceful, committed, self motivated and will definitely involve long hours of work with plenty of excitement and fun. You will be involved in planning, organising and building activities with the help of a team of volunteers, local laborers and members of the community. Please note that the project area is remote and basic facilities will be provided by Yearoutindia. Amenities like Internet, ATM's, Fax etc are only available at the nearest town which is 30 minutes bus ride away.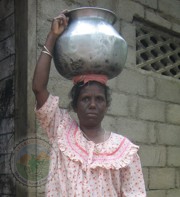 Well water is the only source of clean water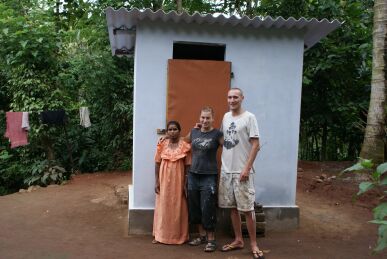 Ben & Gayle completed work
Progect Costs
The program cost depend on duration of placement & time of the year. Please contact a coordinator for exact costs. Volunteers coming for 4-6 week duration can build 1-2 toilets for two needy families. Volunteers will also assist the YOI staff in managing the funds, paying daily wages and procuring materials needed for the building work. Volunteers are encouraged to fundraise for this project if they can, to take on more building / community development work at this project site.