Mannan Tribal Settlement- Kozhimala - South India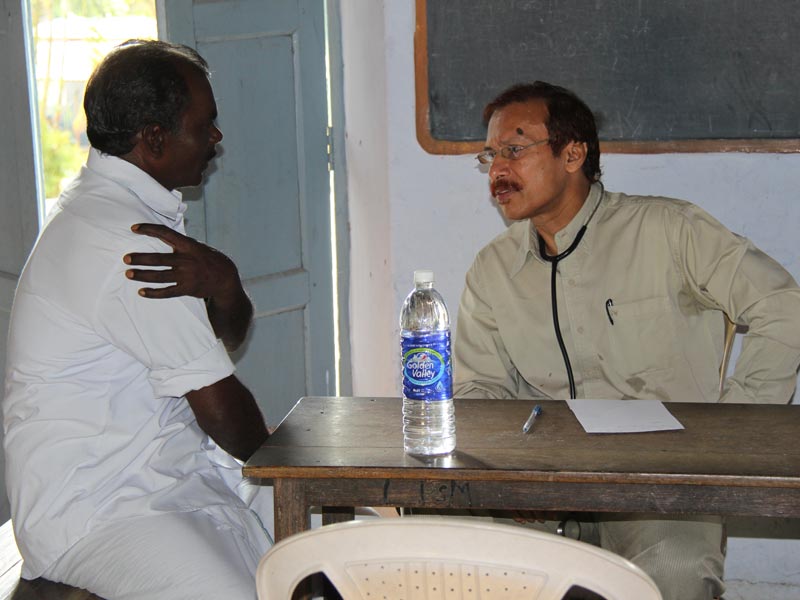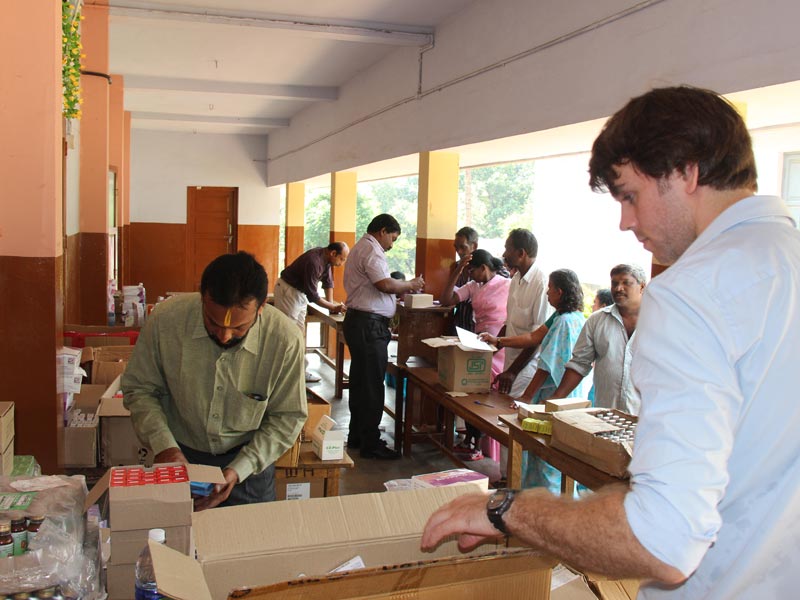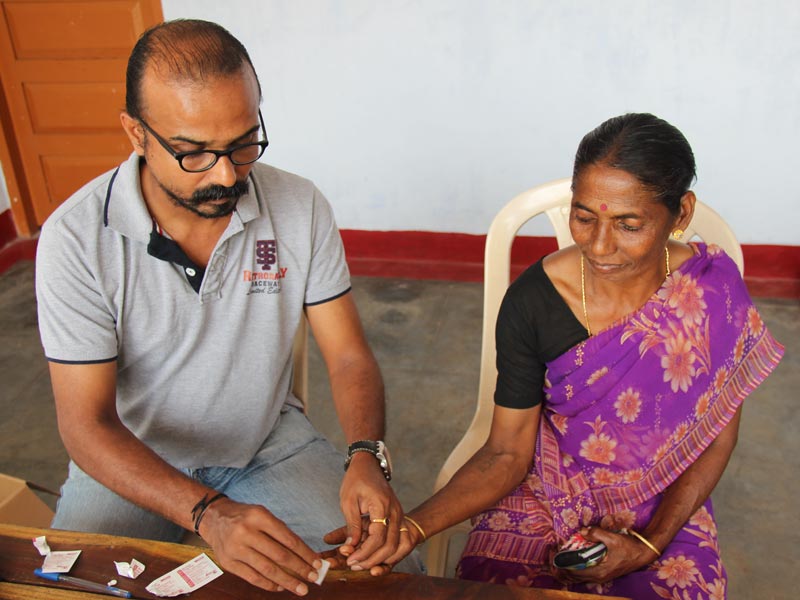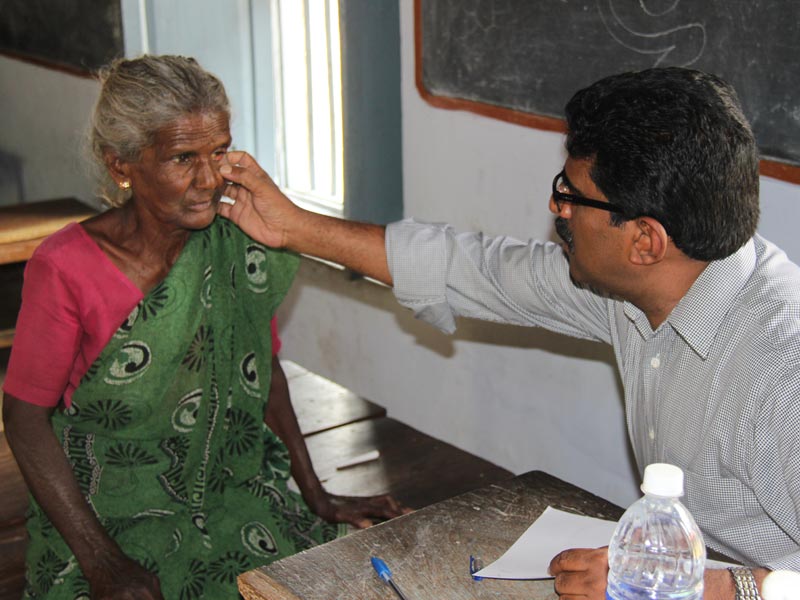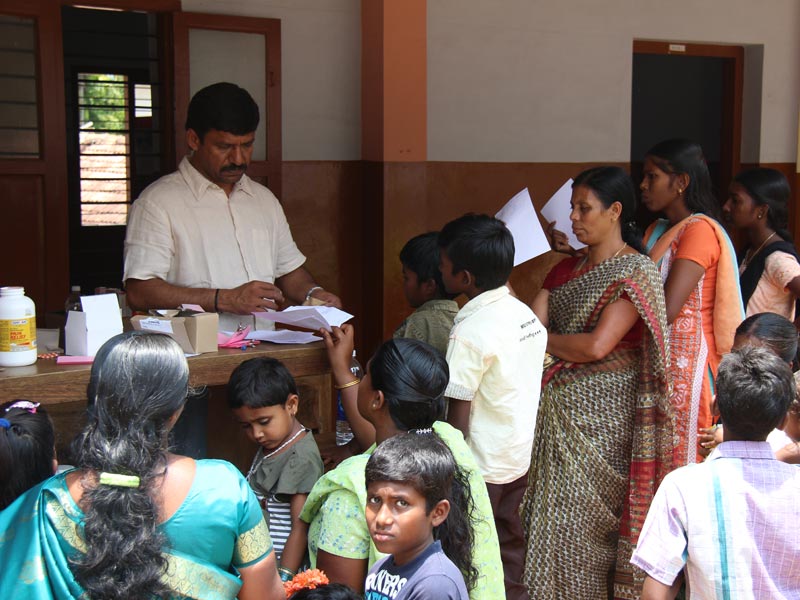 VOLUNTEERS
NEEDED FOR NEW CAMPS & CONTINUE MEDICAL PROJECT
By worldwide standards, the health of the people of Kerala is very high. However, many of the state's indigenous tribal communities do not enjoy the level of health of the wider community. Without a healthy population, many community ventures such as the education of children and family ventures such as a steady income or creation of savings are hindered or even stifled by the sudden appearance of a fever or a broken bone. The resulting medical expenses may be out of reach for a family that often has many other things to worry about or the expenses may be unnecessarily increased for individuals that do not know the health system or available opportunities and alternatives.
Based on an anthropological and preventative health research project conducted during the summer of 2008 by YOI volunteer Bryan Shaw, University of North Texas at the Mannan tribal community of Kozhimala, it was found to be the case that:
The majority of illnesses afflicting the Mannan community are fever (especially high during the monsoon season), body pains, headaches, high blood pressure, and asthma (all of which are often chronic rather than acute in nature).
Other prevalent illnesses are chicken guinea, yellow fever, jaundice, diabetes, dysentery, and mental health disorders.
Those suffering from these illnesses, especially of the first set, frequently visit various hospitals in the area to obtain checkups and medications.
These visits often incur large transportation, doctor fee, and medication costs that, in many cases, account for more than half of a family's income.
There are frequent miscommunications between Mannan Tribal members and health workers at local hospitals and clinics. This leads to many tribal members not having adequate knowledge of their illness or how to care for their illness.
Above all, Bryan suggested a Volunteer-based Preventative Health Project consisting of international or Indian individuals and groups with medical backgrounds. Such a project would act to decrease the prevalence of illnesses in the community, reduce the overdependence on expensive hospital care, reduce medical expenses, aid in quality treatment, and provide the community with the knowledge to maintain an optimal state of health for themselves, their families, and their community
Medical Volunteer Program Activities
Initially YOI volunteers will be required to work alongside local tribes people to design and build a small clinic suitable for the needs of the Mannan Tribal village. As a volunteer on this initiative you will be staying on site and will build a close working relationship with the tribal community including the families for whom the clinic will serve. Once the infrastructure is in place YOI volunteers will workalongside local medical professionals to deliver the service to the members of the tribal community.
The program will primarily consist of preventative health checkups of Mannan Tribal members and children in Kozhimala. These will include simple diagnostic procedures and basic medication dispensing, referral to local health services, formation and maintenance of medical records, and preventative health education of individuals and groups within the community. Program activities may be tailored to the experience and area of medical expertise of the volunteer. All practitioners of the medical and allied health fields are welcome to contribute to this community and project.
Volunteers can stay with tribal families where ever possible and YOI also has a house nearby which volunteers can use. YOI staff will be present on site and will cook meals for volunteers. Special dietary requirements can be accommodated. After work activities will be in the form of treks, camp fires, BBQ's, games, bamboo rafting etc.
Medical Camps
In addition, medical volunteers will have the opportunity to take part in various medical camps organised by Yearoutindia in association with Rotary international and other organisations. Previous camps have specialised in dental health, blood related diseases, cancer detection and eye camps. Camps will be at various locations within Kerala and Tamil Nadu and will be run throughout the year. Volunteers are not required to have exisitng experience of specialisms, although every effort will be made to match volunteers' specific skills to their placement where appropriate.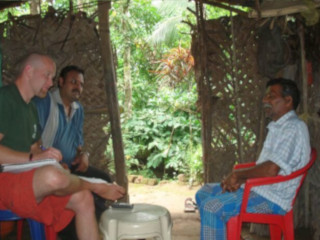 Bryan and Nitin conducting the research at the tribal village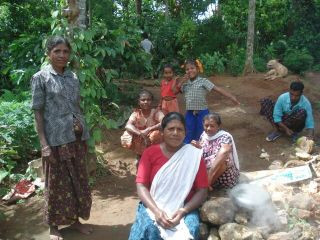 Members of the Mannan tribal community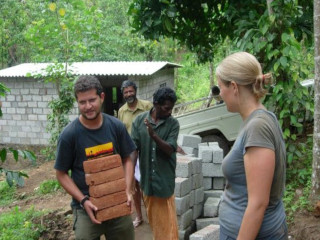 Volunteers building at the project site
Qualifications and Benefits of Partnering with Yearoutindia and the Community
The program is set in the Mannan Tribal community of Kozhimala near the Periyar Tiger Reserve in Kerala. It is ideal for a medical practitioner, nurse, or any member of the allied health fields at any stage in their career from student to retiree. There is also an opportunity for optometry students or practitioners to partner with a local optometrist in order to provide much needed eye exams, eyeglasses, and cataract surgeries. Yearoutindia will arrange training for volunteers to conduct preliminary tests for detection of vision related illnesses.
All that is required from you are the skills to do simple diagnostic medical procedures such as blood pressure readings, a basic understanding of appropriate and available medications, and the ability to inform tribal members of their state of health. In return, you will get a once in a lifetime cross-cultural experience. You will have the opportunity to widen your medical experiences through interactions with Ayurvedic, Homeopathic, and indigenous medical systems. You will volunteer in a beautiful setting nestled in the Western Ghat mountains and surrounded by forest. You will stay with a local family and become, over the duration of your stay-and even beyond, a valuable community member. Above all, you will contribute to the achievement of a healthy community for a people that need that foundation in order to progress in other areas such as education, income generation, and overall community development.
Please note that the project area is remote and basic facilities will be provided by Yearoutindia. Amenities like Internet, ATM's, Fax etc are only available at the nearest town which is 30 minutes drive away.
Program Costs:
Please contact our volunteer coordinator in your region for more details and breakdown of the medical internship fees and placement availability. Duration of service placement vary from a minimum of 4 weeks to 16 weeks. Majority of the fees go directly towards the projects we support. The remaining covers program related costs: all food, accommodation, project-related transport, and staff and project maintenance. Volunteers are encouraged to fundraise for this project if they can.